Our team is passionate about making BibleProject content available in as many languages as possible. If you don't see your language currently available on our Languages page, please take a look below at some additional options that may be a good next step.
Subtitles
If you're looking to have subtitles translated into your language, check out the YouTube feature that auto-generates video subtitles into a number of languages.
To use auto-generated subtitles for a video, click the Settings button (gear icon) > Subtitles/CC > English > Auto-translate > select your language. Please keep in mind that if you do not select a language, such as English, first, YouTube may not display the auto-translate option.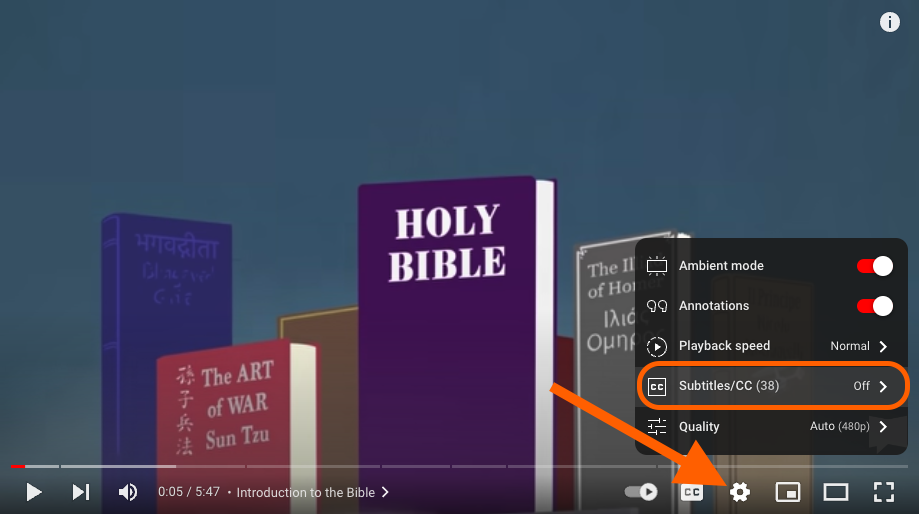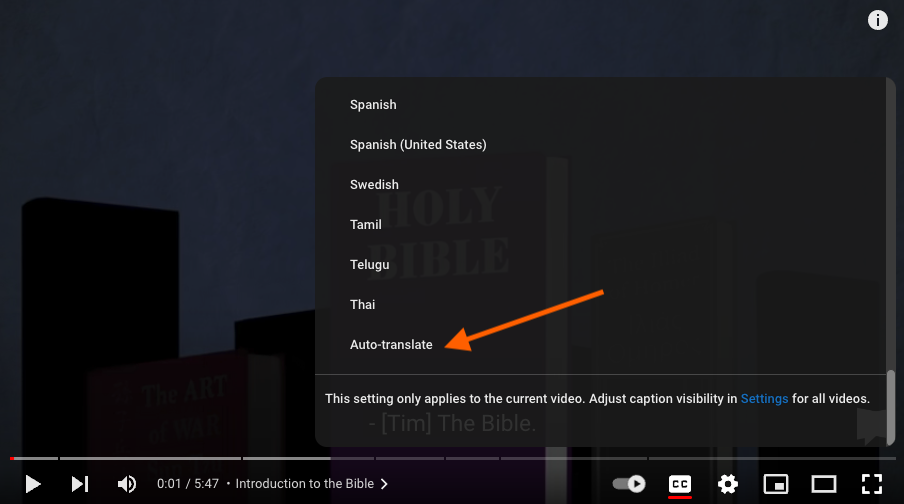 All auto-generated subtitles are subject to inaccuracies as they are not created by BibleProject. If there are any concerns regarding the inaccuracy of these subtitles, you can visit the YouTube Help Center or send feedback via your YouTube account profile.
Please keep in mind that, at this time, auto-generated subtitles are not possible for our podcast episodes on YouTube.
Written Content
You are welcome to translate and share our written content (articles, discussion questions, etc.) as long as you are able to follow the Terms of Use guidelines below:
Credit the original English content to BibleProject, including a link to bibleproject.com
Don't edit or repurpose the written content in any way
Please don't make a profit through the use of our written content or any other resources in our library
Other Translation Opportunities
In certain cases, we grant permission for select teams to enable more people to access our content in their own language through one of the following methods: subtitles, dubbed voiceover, sign language, or fully localizing the animated text and voiceover.
Due to our current capacity, we are able to work with only a limited number of teams in this way each year. If you would like your team to be considered, please fill out this interest form. While we do not have an estimated time that you'll receive a response, we will reach out if your team is selected for further consideration.
We appreciate your understanding and are so thankful for your desire to share BibleProject content in more languages!